Toyota Sponsors 2018 Special Olympics Unified Cup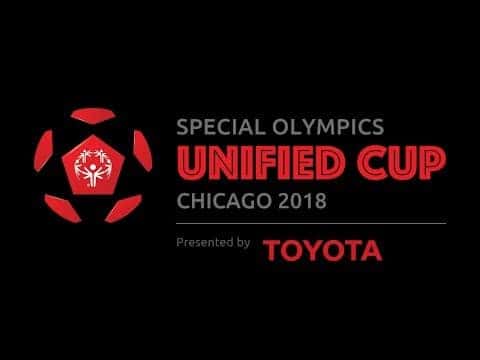 PLANO, Texas, July 16, 2018 – Toyota's long involvement in sports, along with its global commitment to "inclusion," makes the automaker the perfect sponsor for the 2018 Special Olympics Unified Cup, being held in Chicago from July 17th – 20th.
A company that believes in a more inclusive, barrier-free world, Toyota is dedicated to help people move across town, to the other side of a room, and through all aspects of life. They do this by not only producing great quality vehicles, but also, a wide range of mobility solutions. Their dedication is demonstrated in the company's first-ever global initiative, "Start Your Impossible." The slogan, which launched last year, highlights Toyota's values: humility, hard work, and overcoming challenges, which are all key elements of team sports.
Toyota's history with sports dates back to their track and field team, which was organized when they first opened over eighty-years ago. "Since then, the principles learned through participating in sports—teamwork and continuous improvement—have guided the company both internally and externally."
The Special Olympics and Toyota share the same goal to create "a society without discrimination through sports and a commitment to a sustainable society through mobility."
Of course, the Special Olympics focuses on building a more inclusive community through sports around the world. "Unified sports," can be played by anyone, regardless of intellectual disabilities. It shows us that everyone can play together and understand and respect each other's individual differences.
Since 1986, Toyota has been involved with local Special Olympics chapters and sponsored the 2015 Special Olympics World Games in Los Angeles. Then in 2017, Toyota became a Global Gold Partner through 2022. In addition to being a Special Olympics Unified Cup Partner for the duration of the Chicago games, Toyota is also a Global Unified Sports Partner through 2020.
"During my school days, I was completely devoted to field hockey and learned the importance of fighting as part of "one team",'" said Akio Toyoda, president of Toyota Motor Corporation. "In Special Olympics, sport is not the only challenge; even daily life can be a battle to people with intellectual disabilities and those who support them in everyday life. A truly inclusive society, like the one being represented by 'Unified Sports,' is one where people with intellectual disabilities are not just supported by those charged with helping them, but where people with and without disabilities live side by side, grow up together, and learn from each other. It is this type of society that Toyota wants to contribute to. Our partnership with Special Olympics has given Toyota a teammate, and we will challenge this quest together."