Honda Reveals 3E Robotics Concepts At CES 2018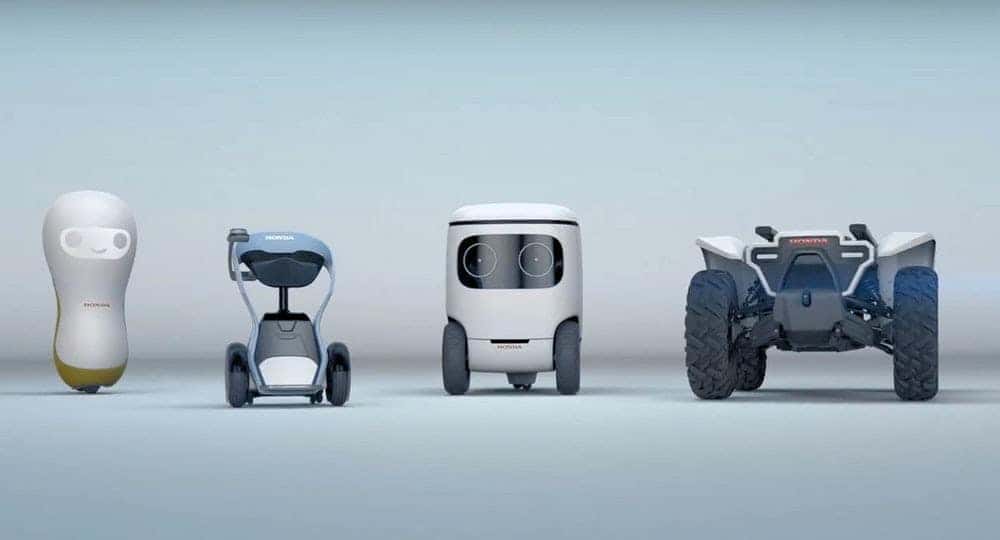 LAS VEGAS, Nevada, January 15, 2018 – Tech announcements are all over the Internet right now, due to Las Vegas' annual Consumer Electronics Show (CES), and we couldn't be more impressed with Honda's new advances. CES 2018 is where the motor brand revealed their innovative 3E Robotics Concepts. Appropriately named '3E', which stands for "Empower," "Experience," and "Empathy," it demonstrates how technology can not only make people's lives better, but can be engineered to understand our needs.
"'Empower' represents Honda's concept that robotics and people can work together while leveraging each other's strengths." The empowerment possibilities robots can provide is showcased in Honda's creation of the 3E-D18 concept robot, called an "autonomous off-road workhorse," it's designed to complete monotonous or unsafe tasks at a job-site. Based on Honda's ATV chassis, 3E-D18 is equipped with four-wheel drive and utilizes the Honda mobile power pack, GPS system, sensors and specialty attachments. Its small size makes it extremely maneuverable and easy to control, making it perfect for public, commercial, and consumer enterprises, including search and rescue, firefighting, construction and agriculture.
For casual use in indoor and/or outdoor spaces, Honda designed 3E-B18, made to empower "people to be mobile in a variety of situations." Honda envisions the 3E-B18 helping people with daily activities like hauling baggage or a stroller.
"'Experience' represents the idea that people and robotic devices grow together by interacting with each other, becoming even more useful for people and society as a whole." Honda demonstrates this concept in the small-sized electric robotics device, 3E-C18, which was built with small business owners in mind. 3E-C18 utilizes AI technology to observe behavior and it proactively supplies support via a variety of tools and features.
"'Empathy' represents the concept that robotics devices have compassion toward and can achieve a mutual empathy with people while providing support for human activities." To achieve this concept, Honda applied AI to its 3E-A18 robot, which can actually read and display facial expressions. Its design also helps reinforce the idea that a robot can provide emotional support, since its outer material is soft in order to facilitate hugs. The best part is, these hugs can be given anywhere! The 3E-A18 is equipped with an omni-directional driving wheel, allowing it to move in any direction.
All of these concept robots base platforms can be powered by Honda's Mobile Power Pack, which showcases the company's "holistic view of how a renewable energy source can be applied to power small-sized electric mobility products, digital devices and home appliances." Honda envisions harnessing extra energy and storing it in efficient, portable, rechargeable batteries.
Honda is looking forward, and the brand is aiming for a more fun, more environmentally friendly future. By helping us realize "the power of dreams," we definitely can't wait to see what Honda comes up with next.
"Honda views robotics not as something in conflict with people, but as an opportunity to expand their potential," said Yoshiyuki Matsumoto, president and CEO of Honda R&D Co., Ltd. "We have entered an era when robotics will become increasingly visible and essential in our everyday lives and have the ability to unlock human potential."