Athletes Supported By Toyota Bring "Start Your Impossible" Movement To PyeongChang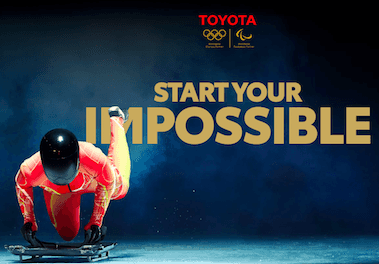 TOYOTA CITY, Japan, February 7, 2018 – Over fifty athletes from twenty countries competing in the 2018 Olympic and Paralympic Winter Games are supported by Toyota. Each member of "Team Toyota" is carefully selected by the auto brand, based on how well they "reflect Toyota's core values: be caring; be a natural challenger; represent the kaizen spirit; have a love of learning and be curious; be honest with strong work ethic; be a team player; be accountable; be humble and thankful; and respect others."
Three-time U.S. Olympian and five-time World Champion snowboarder, Lindsey Jacobellis, was chosen as one of the athletes from Team USA sponsored by Toyota. Truly embodying "a natural challenger," Jacobellis holds the record for the most gold medals (ten) won at the Winter X Games by a female. Jacobellis' teammate, Hailey Langland, also met the Toyota standard. After becoming the youngest snowboarder to compete at the 2017 X Games, and winning a gold medal at the debut of women's big air, Langland is looking forward to making her Olympic debut in PyeongChang.
It looks like Chloe Kim, who was named "the new face of snowboarding," is in good company. Kim actually loves being sponsored by Toyota, because when she's not doing "gnarly" tricks down a halfpipe, she's cruising in her "dope" Prius. "I customized it and made it super sick," Kim told Sports Illustrated. "It's really fast. I just press down [on] the pedal, it twitches a bit and then just blasts off. And then I'm going 100 miles an hour."
The eighty-year-old company has been a Worldwide Olympic Partner since 2015, when Toyota and the International Olympic Committee (IOC) reached an agreement through 2024 to provide sustainable, safer, more efficient mobility solutions for the Games – including transport, urban traffic, and vehicle-to-vehicle communications systems. Since Toyota believes that mobility goes beyond cars, it makes sense for the global automaker to be part of a sports event that unites all of us.
"I have a profound respect for sports, which have a unique power to offer hope and purpose and inspire us all to never give up," said Akio Toyoda, President and CEO of Toyota Motor Corporation. "It is exciting to watch athletes from all over the world compete on a level playing field, where anything can happen. This concept, when carried over to society, means a place where everyone can participate and contribute, where people turn their weaknesses into strengths with optimism and a fighting spirit – and a strong and determined desire to improve and be better."
The "Start Your Impossible" initiative accurately reflects Toyota's values, as well as highlights the company's goal to provide freedom of "Mobility for All." Amy Purdy, J.R. Celski, Alana Nichols, Torin Yater-Wallace, and Evan Strong are only a few of Team Toyota's Paralympic athletes, who are the perfect sponsors to prove the impossible is possible as soon as you start to challenge yourself.
"Mobility is more than how you get places – it's challenging yourself to be a better person both physically and emotionally," said bronze medalist and U.S. Paralympian Amy Purdy, who had both legs amputated after contracting bacterial meningitis at nineteen-years-old. "I stand with Toyota in encouraging everyone to be their best self and athlete."
Another athlete who genuinely represents "the kaizen spirit" is two-time U.S. Olympian and speedskater, J.R. Celski, who suffered a potentially career-ending injury on ice in 2009. However, Celski began training just two months before the 2010 Olympic Winter Games in Vancouver and went home with two bronze medals.
"With Toyota so importantly focused on helping others achieve their goals and move successfully through life, it's fitting they're an Olympic partner and I'm proud to be on Team Toyota," said Celski. "I've certainly faced difficulties throughout my career, but through hard work and dedication, I've come closer to reaching my goal of competing in my third Olympic Winter Games. It's great to work with a company that wants to challenge people to go out and be their best – to do good in this world and challenge the status quo."
In addition to its relationship with the IOC and Team USA, Toyota also proudly supports: the International Paralympic Committee, the U.S. Ski & Snowboard Association, U.S. Speedskating, U.S. Figure Skating, USA Hockey and the U.S. National Sled Hockey Team, U.S. Paralympics Alpine Skiing, U.S. Paralympics Nordic Skiing, and U.S. Paralympics Snowboarding.
The Plaza Auto Mall Family can't wait to cheer on all the Team Toyota athletes as they go for the Gold. Word around the showroom floor is that Chloe Kim is going to be the "sweetheart of PyeongChang."
Everyone here at Plaza is grateful to work with and represent Toyota, a brand that teaches us that "there's something impossible out there for you."